UN-WHO International Conference on Space and Global Health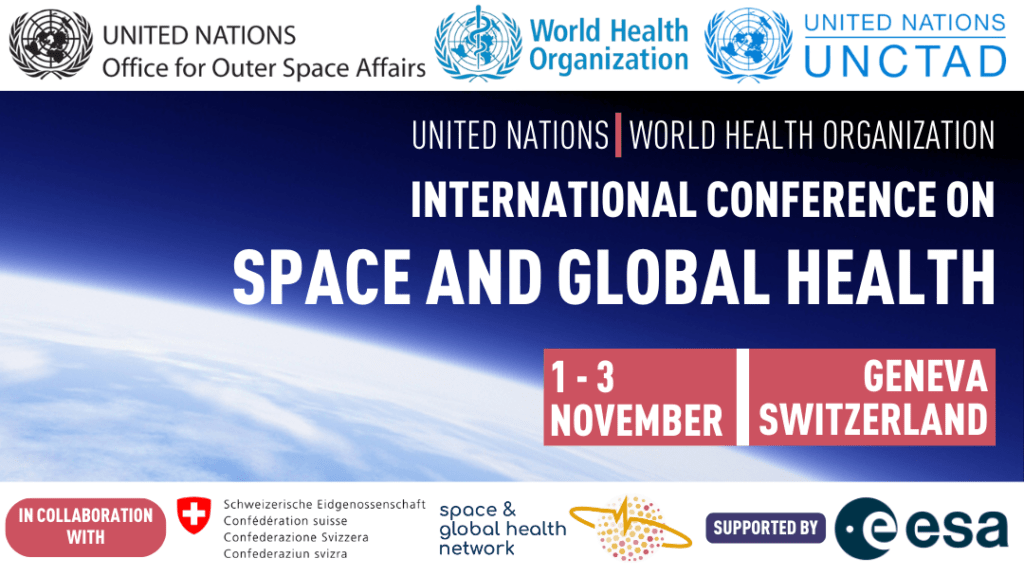 NOTE: this is based on an article that was originally published on the United Nation's website.
Destination Earth (DestinE) was one of the initiatives showcased during the International Conference on Space and Global Health in Geneva, Switzerland from 1-3 November 2023.
The event aimed to bridge the gap between the space and global health domains in line with the United Nations (UN) General Assembly resolution on Space and Global Health and the UN's Sustainable Development Goal 3 "Good Health and Well-Being". DestinE was presented by Rochelle Schneider from the European Space Agency (ESA), one of the three entities that are tasked with the implementation of the initiative, aside from European Centre for Medium-Range Weather Forecasts (ECMWF) and the European Organisation for the Exploitation of Meteorological Satellites (EUMETSAT).
The focus areas of the event included telemedicine and tele-health, tele-epidemiology and environmental health, space life sciences and disaster and health emergency management. Through various sessions and keynotes, the conference presented exemplary use cases of space technologies in these domains, exploring collaboration opportunities within the Space and Global Health Network.
The conference was a collaborative effort between the UN Office for Outer Space Affairs, the World Health Organization and the UN Conference on Trade and Development.
The program was structured over three days and incorporated sessions dedicated to exploring different dimensions of space applications in health, culminating in a comprehensive review of recommendations to be presented to the Committee on the Peaceful Uses of Outer Space.
Make sure you don't miss important DestinE updates. Join the DestinE Community newsletter now.