EuroGEO Workshop 2023
October 2

-

October 4

3 minutes
Bolzano/Bozen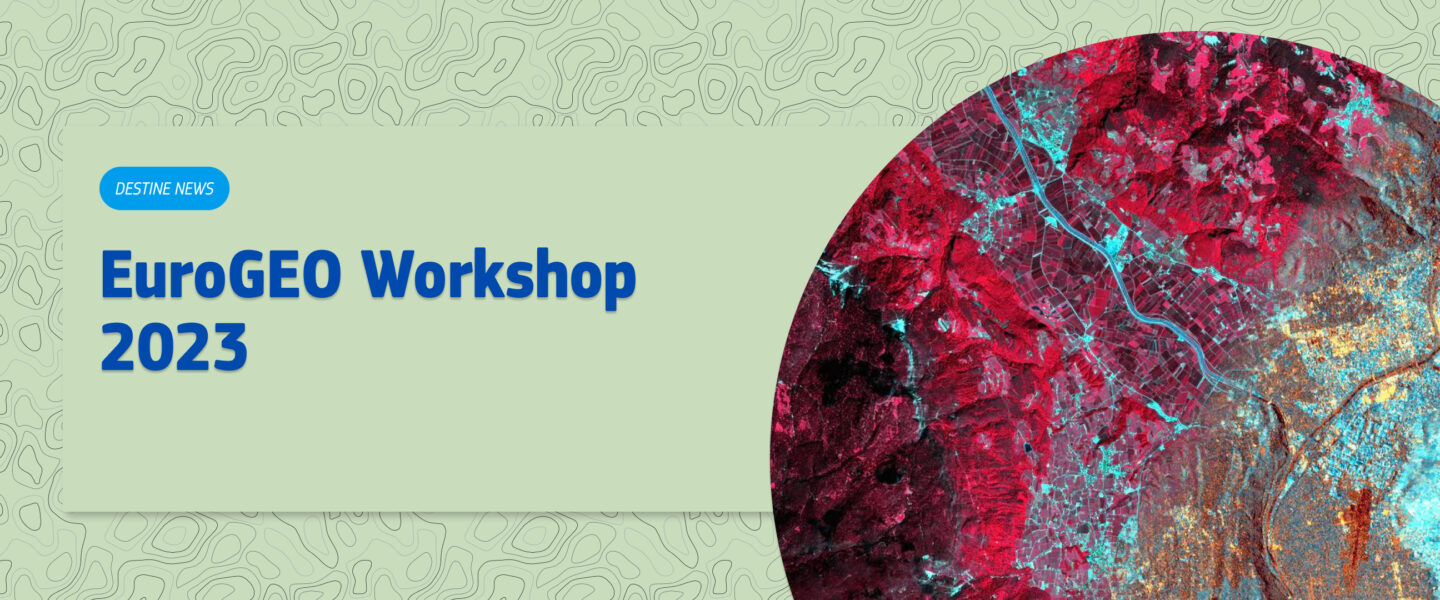 Destination Earth (DestinE) will be presented in the EuroGEO Workshop being held from 2-4 October 2023 in Bolzano, Italy.
As part of the DestinE commitment to advancing digital twin technology and renewable energy, the project will be presented during two engaging sessions at EuroGEO this year.
On Tuesday, 3 October 2023, from 11.15 to 12.45, ECMWF Destination Earth Technology Partnership Lead Thomas Greenen will introduce the Digital Twin Engine during the session titled "Digital Twin Development in Europe." He will detail how this state-of-the-art software infrastructure has the potential to revolutionise Earth observation and intelligence, providing invaluable insights into environmental changes and societal challenges. In the same session, EUMETSAT, responsible for the development of the Data Lake in Destination Earth initiative, will present the importance of data lakes in the context of digital twins.
In the afternoon, from 14.15 to 15.45, Marion Schroedter-Homscheidt and Susanne Weyand from DLR will present DestinE's use-case on renewable energy as part of the parallel session "Renewable Energies and Climate."
In addition to the sessions, the ESA DestinE Core Service Platform Use Cases project (DEUC) will also showcase its work through a poster presentation.
Session: Digital Twin Development in Europe
3 October 2023 11.15 
This session aims at providing an overview of ongoing development and implementations of digital twins in the European research community. It covers both infrastructure and architectural design questions as well as examples of a successful implementation of digital twins in context of Earth Observation and related disciplines. 
Session Agenda
Welcome and Introduction by the session Chairs 
Presentations; 
An introduction to the digital twin engine of Destination Earth
Thomas Greenen (ECMWF) 
InterTwin – A blueprint architecture for digital twins
Andrea Manzi (EGI) 
The importance of data lakes in the context of digital Twins
Jordi Duatis (EUMETSAT) 
Simulation of Heavy Rainfall Events by using a Digital Twin
Martin Lenk (BKG) 

DTE in the European Space Agency

 
Diego Fernandez (ESA)

Closing discussion among all participants, regarding the key objectives of the session on harmonisation and interoperability 
Session: Renewable Energies and Climate
3 October 2023 14.15 
The session aims at showcasing the use of EO data for renewable energies and climate applications and present the progresses on renewable energies applications based on EO. The session will also present some examples between renewable energies and climate and describe the current evolution of the Copernicus Energy Hub and of Energy within DestinE. There will also be a discussion on the evolution of the domain and of GEO VENER.
Session Agenda 
Welcome and Introduction by the session Chairs 
Presentations; 
nextSENSE: solar energy nowcasting & short-term forecasting system
Stelios Kazadzis (PMOD-WRC) 
High photovoltaic penetration at urban scale
Philippe Blanc (MINES Paris – PSL)
Progress on the Copernicus Energy Hub
Fabio Venuti / Chiara Cagnazzo (ECMWF) 
DestinE use-case on renewable energy
Marion Schroedter-Homscheidt/ Susanne Weyand (DLR) 
Round table discussion chaired by Thierry Ranchin (MINES Paris – PSL) 
These presentations will be an excellent opportunity to learn more about the Destination Earth initiative. They will be of particular interest for researchers and practitioners interested in digital twin technology. We encourage all attendees to join us for these exciting sessions and engage with our team to learn more about DestinE and its potential impact on the future of digital twins. 
More information about the event is available on the event website. 
Make sure you don't miss important DestinE updates. Join the DestinE Community newsletter now.