New DestinE procurements area: DestinE opportunities now in one place!
October 5, 2023 127 views 2 minutes
Organisations interested in contributing to the implementation of Destination Earth (DestinE) can now benefit from the new DestinE Procurements area just launched as part of the DestinE joint website.
The procurements section (https://destination-earth.eu/procurement/) will serve as a central information point for all DestinE-related procurements, providing continuous opportunities for external organisations to the initiative.
Procurement listings will come primarily from the three entities tasked with implementing the components of DestinE – the European Centre for Medium-Range Weather Forecasts (ECMWF), the European Space Agency (ESA) and the European Organisation for the Exploitation of Meteorological Satellite (EUMETSAT). Procurements related to DestinE from other agencies may also be showcased in a dedicated part of this new section.
The section features both upcoming and open procurement opportunities as well as records of past procurement calls.
The procurement section is an important part of the DestinE joint website as it reflects its inclusive strategy of involving the wider community in the initiative.
Opportunities available now
The section opens with three existing procurements.
Destination Earth Quality Control Framework: ECMWF is currently preparing a tender aimed at reviewing existing Uncertainty Quantification (UQ) and Quality Control (QC) approaches applied in other relevant contexts, including operational weather and climate services, Copernicus (notably the "Evaluation and Quality Control" approach), and others and developing a draft concept for an approach applicable for DestinE. The work will consider approaches in different sectors and user groups and include some exchanges with relevant actors.
Reference Datasets for DestinE AI: This tender is planned by the ESA and aims to integrate scientific, developmental and operational endeavours to amplify the impact of DestinE AI in both science and society at large. Throughout several key components, such as the creation of AI benchmark datasets, the launch of a State-of-the-Art Service, a comprehensive curation facility and repository to curate, manage, and store data, the initiative takes a significant step towards making AI accessible to all, ensuring inclusivity and widespread adoption.
Usage Assessment Framework – Digital Identity, Traceability & Impact Analysis Services: The ESA is planning a procurement which aims to trace and measure the uptake of DestinE data, dataset, and platform interface across worldwide publicly available policy and academic documents.
Join us on this exciting journey and help make a difference in shaping the future of DestinE. If you are interested in contributing to this initiative, bookmark and keep track of this section.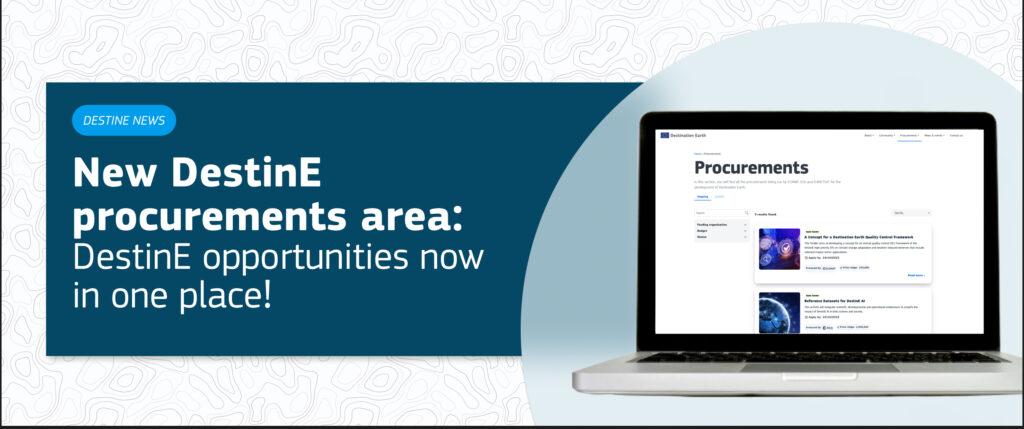 Did you like this news? Share this article:
If you enjoyed reading this, you might also be interested in